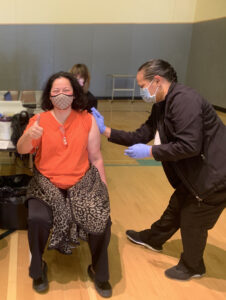 WHITE CITY, ORE. (Apr. 20, 2021) — On Saturday, April 24, from 8 a.m. to 2 p.m. Rogue Community Health (RCH) will offer a Moderna vaccine clinic for anyone 18 and older at White Mountain Middle School, located at 550 Wilson Way in White City.
Pre-registration is required and can be completed at roguecommunityhealth.org/vaccine.
"We want to make the vaccine available at places that are familiar and comfortable for people," says Ceci Robe, RCH School Health Program Director.
The vaccine will be offered at no cost. Participants who have insurance need to bring their insurance card. All participants need to bring a form of identification.
Rogue Community Health operates School-Based Health Centers at six schools in Jackson County, including White Mountain Middle School, Eagle Point High School, Table Rock Elementary, Ashland High School, Butte Falls Charter School and Prospect Charter School.
RCH previously partnered with Eagle Point School District and Jackson County Health & Human Services to offer a March 13 clinic at White Mountain Middle School that resulted in 134 vaccinations.
About Rogue Community Health (RCH)
Rogue Community Health is a nonprofit community health center that serves nearly 15,000 patients in the Rogue Valley, regardless of insurance or ability to pay. Services include medical care, dental care, behavioral health, integrative health, pharmacy, pediatrics, school-based health centers and community resource assistance. Their mission is to "improve health, especially for the most vulnerable, in partnership with our community."