SMALL BUSINESS EMPLOYEE RETENTION PROGRAM
Rogue Community Health is sponsoring an introductory and limited time offer for employers signing up for the Employee Retention Program.  All new employees who meet eligibility criteria will receive a $100 gift card and become eligible for participation in our SELF-to-SELF program including financial support for a specific significant goal to be determined by the employee. 
Goal:  To provide a no-cost program of supports and services for employees of Priority Partner Employers (PPE) to improve employee recruitment, retention, engagement and activation in support of the employer's goals and objectives, as defined by the employer.  Most of the ERP employees must be enrolled in the Oregon Health Plan to maintain the viability and incentives. There are scholarships and other programs available on a limited basis.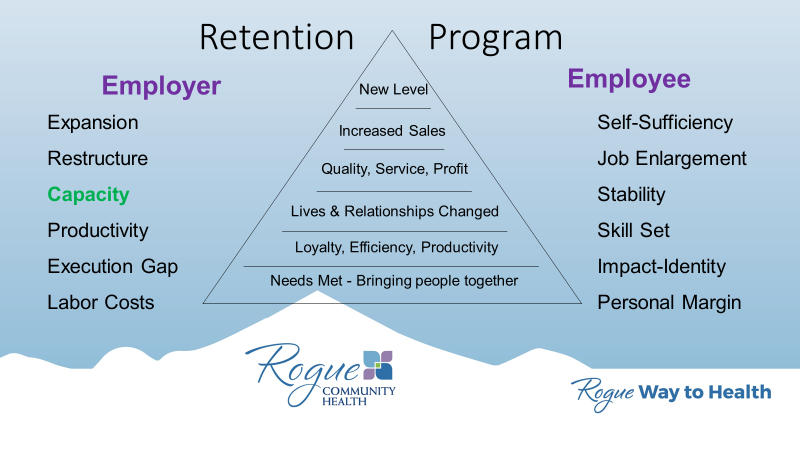 The Employee Retention Program provides incentives for employees who maintain key health and wellness behaviors and an exemplary employment record of attendance, productivity, customer service, and quality, as an employee of a Priority Partner Employers during the term of the individual's engagement with the program (generally up to a maximum of two years).
The SELF-to-SELF program is designed to support achievement of an individual's personal goals. Working with Rogue Community Health staff a personal goal is selected.  The action steps and timeline for achieving the goal are agreed to and reduced to a written agreement.
This "agreement" provides direction regarding what the expectations are on both sides including regular meetings with a Rogue Success Navigator, regular attendance at health-related activities as well as other classes around social needs, navigating community activities, personal growth or financial topics, and demonstrated maintenance and improvement of the agreed-upon actions related to the individual's employer.
In exchange for the employee's participation, supports related to 1) areas such as food, transportation, childcare, housing, education, etc., 2) employment engagement or other related success activities, and 3) custom support and educational opportunities. The program is time sensitive and intended to help an individual move beyond self-limiting behaviors to personal mastery.
As a rule, the process takes approximately 90 days, depending on demand, from initial signing of the nondisclosure agreement to roll-out of the ERP plan to employees.  The planning process includes customization of activities related to a specific employer, implementation timeline, and participation requirements and expectations.  The program is renewed on an annual basis based on improvements in employer-selected metrics and employee participation.
A quarterly review of ERP performance to include, Rogue Community Health performance, employer metrics, and employee satisfaction feedback provide information for updating and improving the program over time.
Steps to Implement the Program
Employer signs nondisclosure agreement to discuss the basic provisions of the ERP
A series of 3 meetings are set to plan and set implementation activities of the ERP
Employer identifies appropriate management/line staff to implement the RRP
Employer identifies dates, times, and channels for ERP introduction to employees
Employee Participation Requirements
Employee establishes membership/health home at Rogue Community Health (RCH)
RCH assesses employee's current social support needs and personal goals to succeed
Employee meets with RCH staff to identify approach to meeting immediate needs
Employee identifies for personal/family goals and applies for SELF-to-SELF program
Employer Participation Expectations
Employer agrees to provide RCH access/incentives to employees to present ERP
Employer agrees to include eligible ERP in new employee onboarding and orientation
Employer agrees to provide three key performance indicators of success (confidentially)
How to Get Started
Complete the application form and Rogue Community Health for a confidential consultation or call us today at 541-200-6340 to get started now.
Rogue Community Health has sponsored the Rogue Challenge over the last two years with the intent of building a community resource for nonprofits, small businesses, government agencies and individuals. The Commons Hub is a referral and case management program to support the connections between community organizations in support of our community.
Rogue Community Health believes in every person who comes through our doors. And we also believe that health and wellness implies they have access to all they need to succeed and thrive in our community.  No one organization, business or government agency has all the answers.  But together we can solve the challenges facing our community and as a result help those who need a little more help today.  All it takes is working together.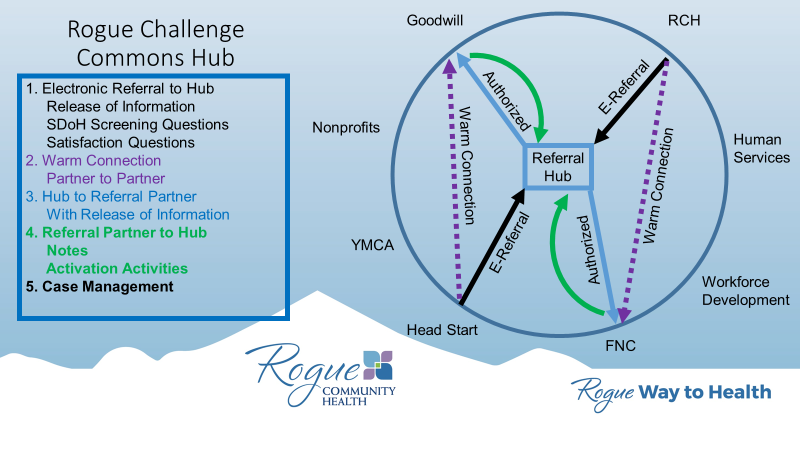 The Rogue Challenge Commons Hub is designed to engage nonprofit and other partners in a simple, trauma-informed referral process to programs and services and that access to those programs and services happens as intended.  A built-in warm connection and authorization process assures that people are getting the help they need.  It also provides information regarding demand and supply of services as it changes within the community to minimize the potential for problems or delays.
Participation in the Commons Hub is free to nonprofits with an expectation that partners come to the Commons table with a mindset of what can I contribute as well as what can get to help fulfill the mission of my organization.  For partners who want to engage at a higher level or who have a higher volume of activity, the ability to purchase a more robust connection to the Hub is available.  The Hub is a community asset and governed by the partners.