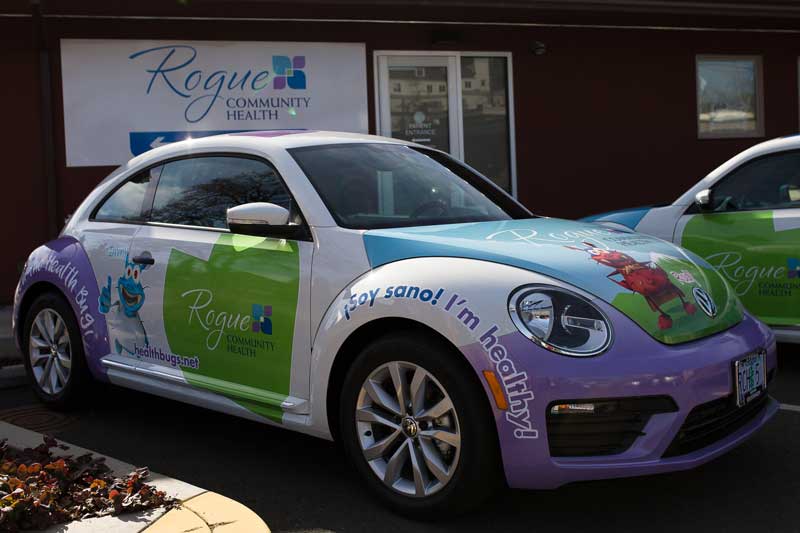 Health Bugs will soon hit the roads of the Rogue Valley to increase access to health services and to bring awareness to the importance of a healthy community. Everyone is invited to see the Health Bugs at a Medford Chamber Ribbon Cutting planned for 10:30 a.m. on Wednesday, November 1, in front ofInn at the Commons in Medford, just prior to Rogue Community Health's annual fundraising event — the Rogue Way to Health Luncheon.
Rogue Community Health (RCH) is introducing a fleet of 5 new Volkswagen Beetles to educate people on the importance of healthy behaviors, reach patients throughout the valley who experience barriers to accessing healthcare services, and to support organizations, nonprofits and small businesses through direct services. The Health Bugs will also be at health fairs and community events throughout the region.
The vehicles will be wrapped with attention-grabbing art and the invitation for people to "Catch the Health Bug!" The purchase was made possible thanks to a combination of Oregon Health Authority "I'm healthy" grant funding and the generous support of Lithia Volkswagen of Medford.
"I'm healthy! (¡Soy sano! in Spanish) is an Oregon Health Authority grant-funded program that uniquely supports children and teens under the age of 19 who do not qualify for full Oregon Health Plan benefits or Qualified Health Plans.
"The implementation of the 'Health Bugs' will allow our patients better access to all of the services provided through Rogue Community Health," said William North, CEO at Rogue Community Health. "We see it as a way to invest in the health of our community. We want everyone to Catch the Health Bug through health-promoting activities." Each of the bugs were given a name: "Proby" for probiotics, "Penny" for penicillin, "Immy" for immunization.  "Rudy" for Lactobacillus Reuteri, and his brother "Dophi" Lactobacillus Acidophilus.
Dick Heimann, owner of Lithia Volkswagen of Medford and a long-time supporter of Rogue Community Health says, "I am more than happy to offer support from Lithia to help Rogue Community Health bring more health-related services to southern Oregonians. Rogue Community Health is an asset to the community."
The Health Bugs will support people facing financial, geographic and psychological barriers to accessing health care. Health education, immunizations, screenings, and telehealth visits bring health promotion and disease prevention to the community level and provide ease of access for individuals.
So join us today and Catch the Health Bug!   https:healthbugs.net