There is no shortage of caring people in our community dedicated to offering services to those in need. But there's a challenge. For the client, who many times needs the assistance of several organizations, it's a difficult network to navigate. Different organizations offer specific categories of services in a variety of locations, and each has their own requirements and paperwork.
The services are there, they just needed to be connected. And now they are.
In 2016, seven CEOs from some of Jackson County's most dynamic organizations sat down to begin a meaningful collaboration designed to better address the needs of those they mutually serve. Their goal: a coordinated effort to create a better system of care, and to use available funding efficiently and effectively to move families to self-sufficiency.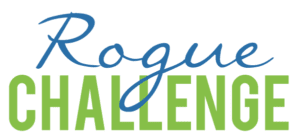 Rogue Community Health and our Rogue Challenge partners, Addictions Recovery Center, ACCESS, Rogue Valley YMCA, Southern Oregon Goodwill, Southern Oregon Head Start, and Family Nurturing Center, are working in combined groups to design the changes needed in the system, while keeping those we serve in mind. By integrating our programs we can help our clients seamlessly engage with a variety of services that previously weren't connected in any way.
This collaboration has allowed us all to become well-versed in what our clients face in their daily lives as well as when they engage with a support organization. It has also allowed us to better understand what our partner agencies do, as members of each group have spent time visiting each other's facilities and exchanging ideas, all as part of building a bridge between them.
Seven organizations working together means there are seven times as many resources and funding streams, and our community members who take advantage these services will be assisted in connecting with the best agency to suit their needs.
Our entire community benefits from a system that delivers better care and works more efficiently. Not only are our clients finding easier access to services, outcomes are improved, and precious funding goes further. And that was a challenge worth taking.
The Rogue Challenge Guiding Principles
First, our community must create a culture of investing in families and children who today do not have the resources needed to succeed but tomorrow must have if we all want to maintain and improve our quality of life in Southern Oregon. We can't afford another lost generation.
Second, our community's health and human service nonprofits must come together to develop a quality-driven, integrated delivery system, one that uses available resources and funding efficiently and effectively to move families to self-sufficiency and moves individuals to the opportunity for full self-actualization.
Third, our community business owners must be supported in providing opportunities for individuals to earn a livable wage and produce an economic standard of living that supports all families while participating in development of viable solutions to the challenges we are facing as a community.
Fourth, our community city and county governmental agencies must provide new laws, regulations and financial supports that enhance the economic development and social service supports necessary to assure all citizens, especially young families, have help to succeed and participate fully in civic life of our community.
Fifth, our community, to successfully address the social and economic determinants of health, drivers of poverty, and equity imbalances depends on a systemic approach to shared responsibility, accountability, benefits and systemic quality improvement which does not currently exist.
Sixth, our community partners must move beyond organizational boundaries to embrace broader definitions of mission in which results are predicated on the ability and willingness to change to meet the needs of the people who we serve.
Finally, a shared language and model of how community systems work will provide a learning environment for community partners to understand how the causal links between actions of all partners, including recipients of services, work to solve the most intractable problems facing our most vulnerable citizens.
SELF-to-SELF Program
The SELF-to-SELF program is designed to support achievement of an individual's personal goals in life and overcoming barriers. Working with Rogue Community Health staff a personal goal is selected.  Personal goals need to be achievable, realistic and significant to the individual.  It can be broad or narrow, relatively simple or complex, easy to accomplish or challenging.  It can be family, social, goal-oriented, or financial.
What the Rogue Success Navigator does is help the individual create a plan to succeed, including those foundational activities to support that success.  The first SELF in the SELF-to-SELF Program comes from the Sanctuary Model – Safety, Emotion, Loss, Future – and provides an individual with understanding how past adverse life events may be showing up in current unsatisfactory results of efforts to achieve personal goals.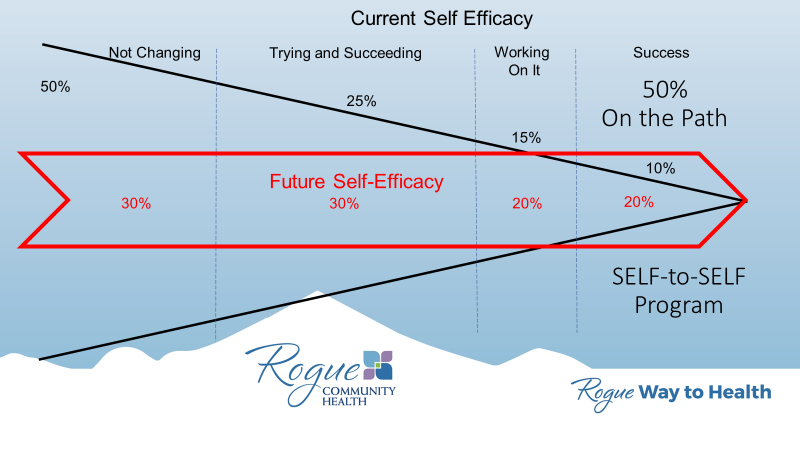 The second SELF in the SELF-to-SELF Program is Rogue Community Health's Self-Efficacy Life Framing Program based on the work of Albert Bandura.  We define self-efficacy as the optimistic self-belief in one's competence or chances of successfully accomplishing a task and producing a favorable outcome.  Life Framing in SELF-to-SELF program introduces five sources of efficacy beliefs to the individual including Mastery Experiences, Vicarious Experiences, Verbal Persuasion, Personal Resiliency, and Visualizing Success.
The action steps and timeline for achieving the personal goal are agreed to and reduced to a written agreement.  This "agreement" provides direction regarding what the expectations are on both sides including regular meetings with a Rogue Success Navigator, achieving and maintaining health and wellness, as well as other classes around social needs, navigating community activities, personal growth or financial topics, and demonstrated maintenance and improvement of the agreed-upon actions related to the individual's employer.
In exchange for the employee's participation, and in addition to the personal support from the Rogue Success Navigator, supports related to 1) food, transportation, childcare, housing, education, as needed may be available, 2) employer engagement or other related success activities, and 3) custom opportunities including educational opportunities. The program is time sensitive with intentional deadlines and intended to help an individual move beyond self-limiting behaviors to personal mastery.
Participation in the program is prioritized to individual small business and nonprofit employers but is not limited to them if an individual meets eligibility requirements. Many individuals are referred to the SELF-to-SELF Program through nonprofit partners or government agencies.