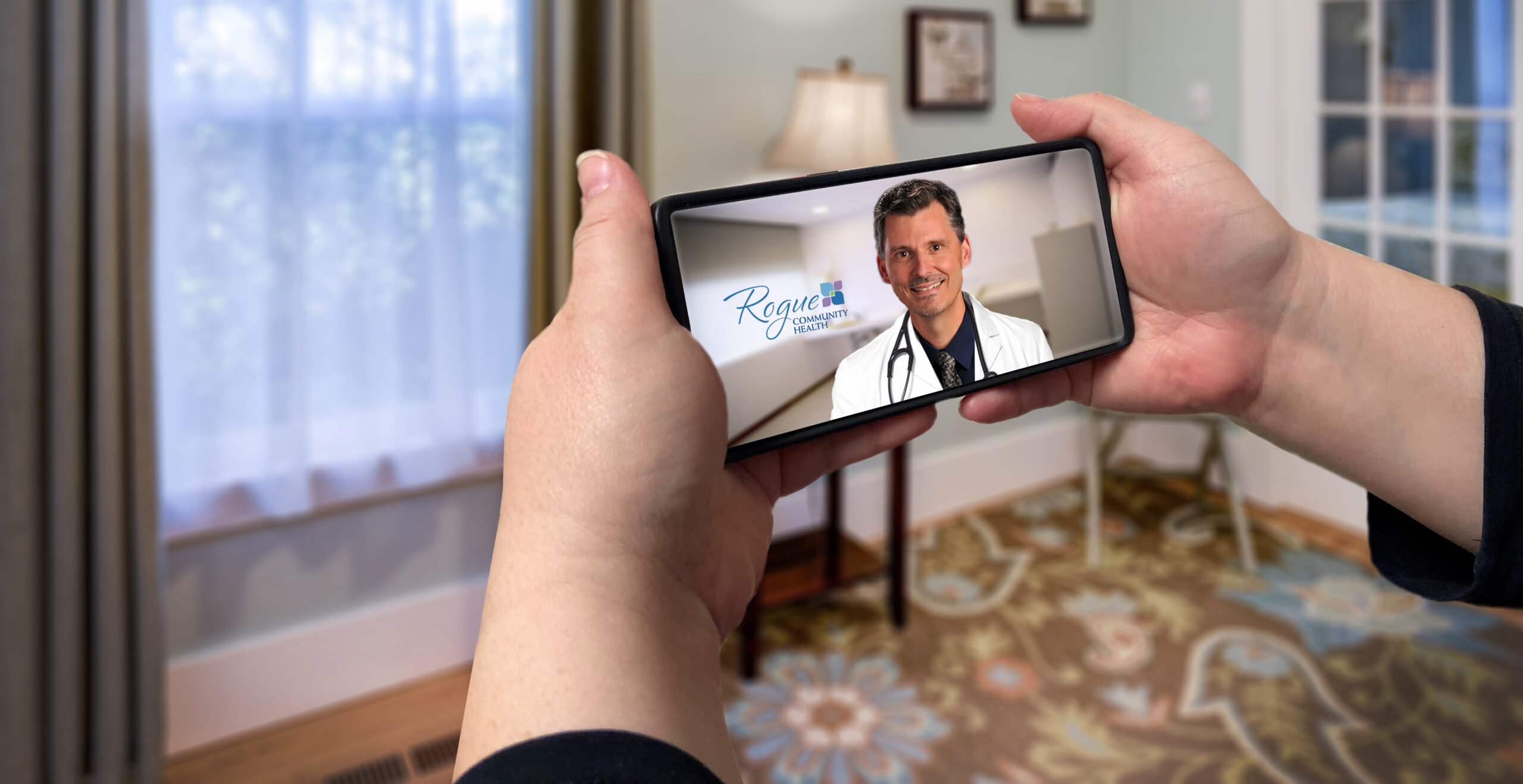 (MEDFORD, OR, March 24, 2020) — Rogue Community Health announced that it has launched Virtual Visit, a telemedicine solution that allows patients to receive diagnosis and treatment for common medical conditions from a Rogue Community Health provider using a smart phone, tablet or computer via video connection.
"We have moved quickly to launch Virtual Visit to help our patients safeguard their health and minimize
exposure to the Coronavirus as they are limiting their excursions under the Governor's Stay Home, Stay Healthy Policy," said William North, CEO for Rogue Community Health. "Patients are able to see a health care provider from the comfort of their own home and maintain their health during these difficult times."
Rogue's Virtual Visit can treat for common, non-acute medical conditions. Virtual Visit also includes the capability to provide behavioral health services and other social supports over Rogue's virtual network. Rogue's Virtual Visits are available from 8am to 6pm, Monday through Friday and 8am to 4pm on Saturday. Anyone experiencing a medical emergency should seek appropriate emergency medical assistance by calling 911.
Virtual Visit provides several benefits for patients:
Greater ease accessing preventive health care services
Easy steps to getting your Rogue prescriptions refilled
Reduction in time and transportation costs
Safety and peace of mind while practicing social distancing
For current patients of Rogue Community Health, simply log into your MyChart account at: www.roguecommunityhealth.org to schedule a Virtual Visit today. If you are new to Rogue Community Health, there are just a few steps required to begin receiving services. Please contact us at 541-773-3863 to get started.
Virtual Visit uses Zoom, a web-based video conferencing service, to host MyChart virtual visits. We will bill your insurance for you and a generous sliding fee scale is available for those income qualified. Zoom offers HIPAA compliant multi-layer security and PHI (Protected Health Information) is protected. Zoom does not store any information that is transmitted.
To schedule a MyChart Virtual Visit, please call 541-773-3863.